Research Grant Program
(Open to the public)


Aiming toward a healthy and spiritually enriched society the year 2019

The Univers Foundation was established in 1990 for the purpose of promoting and enhancing social welfare at the wish of Buddhist Master Shinjo Ito, who is the founder of Shinnyo-en Buddhist denomination. With a goal of developing a healthy and spiritually enriched society where everyone can live actively among others, we provide research grant programs for those who support welfare development and other various programs.

The present Japan is facing a rapidly aging society. Social isolation, poverty problems and widening income inequality are becoming more serious. While family structures, lifestyles, and values are actually very diverse, the role of academic research is very important in deeply analyzing the existing social situation and proposing new solutions for the present issues based on the researches and investigations.

We offer grant programs under the fundamental theme of "aiming toward a healthy and spiritually enriched society." Young researchers from different fields such as social sciences, human sciences, natural sciences, etc. as well as practitioners in social welfare are welcome to apply for our grant programs. We especially encourage young researchers to apply for the development of the next generation.
Download Application
Three Subjects of Grant Programs
1. Develop social security system and policy
This program supports those whose research is focused on developing a new social security system to realize a healthy and spiritually enriched society.
Possible research topics:
1. Pension, insurance, benefits; 2. Enhancement for medical care and long-term care; 3. Preventing dementia; 4. Upbringing of future generations; 5. Overcoming poverty and income disparities; 6. Social security in disaster time; 7. Guaranteeing the rights of workers.
2. Elderly wellness and support for children and youth
This program supports practical research regarding mental health and wellness for the elderly, and also in relation to support of youth, children and childcare. Fundamental research is not the subject of this program.
Possible research topics:
1. Mental health and wellness of the elderly; 2. Dementia, senior care giving; 3. Elderly isolation, poverty, abuse etc.; 4. Childbirth and childcare support; 5. Child abuse and poverty etc.; 6. Child education, after school child plan and activity; 7. Child disability care and education; 8. The issue of truancy and bullying; 9. Assistance for youth; 10. Measures for coping with youth withdrawal from society.
3. Community roles
This program supports civilian activities to build and maintain a society where everybody can live in peace and research regarding a substitute community building for the once-formed system of helping each other in a large family and within the community.
Possible research topics:
1. Community-based welfare; 2. Civilian activities, international cooperation; 3. Social participation of the elderly in society, value of their living; 4. Childcare performed by the whole society; 5. Supportive service for the challenged; 6. Inter-generational communication; 7. Supporting caregivers; 8. Development and succession of the town's culture; 9. Support of foreigners' settlement in the community.
Guidelines
1. Grant Period and Amount of Grant
Grant period is one year, from November 2019 to October 2020. The maximum amount of grant is 1,000,000 yen per grantee. A proposed amount of grant shall be assessed with your application and research plan including a research scale and contents during the screening process.
2. Application Requirement
For those who meet the following requirements may apply:
Those who are engaging in research activities at a university, research laboratory, research institution, or an educational organization.
Those who are enrolled in or graduated from a master's/doctoral course, or those who hold equivalent degrees or qualifications.
However, applicants who are enrolled in a master's course or the first half of a doctoral course need an adviser to apply. No adviser is required for the second half of a doctoral course.
For contributing to more researchers, the foundation provides grants only once for each grantee.
3. Due Date for Application
July 31, 2019 (All applications must be received by no later than 5:00 p.m. Japan time.)
4. Application Procedure
Please fill out the application form and send it to our office by postal mail. ( In order to avoid troubles such as loss, please try to send the application that is traceable.)
For your information, we shall not return any submitted documents.
Note
Please submit the application after you pass it through the Ethics Committee of your organization.
Please acknowledge that we do not accept any application by e-mail, nor fax.
Your application must be submitted in simplex printing and be sure not to staple them.
The amount of grant will be remitted to your bank account which must be in applicant's name. We can arrange the remittance to your research institute's bank account only when they do not take overheads or any indirect costs.
5. Usage of Grant
Grant should be spent on Personnel Costs, Travel Expenses, Equipments, Commissioned Survey, Rental Fees, Meeting Expenses, Research Reference Literature, Printing Expenses, Correspondence Expenses, Supplies and Others.
Submission of the receipts for the expenses to the Foundation is required.
Before you fill in a budget in detail, concerning the usage of grant, please carefully look at the list below; <List of Expense Items>; <Example of 3.1 Breakdown List for page 2 of APPLICATION FORM.>
Please note that it is not allowed to change each expenditure budget after your research project is selected.
List of Expense Items
1 Personnel Costs
Compensation for the researcher cooperation outside of the party, and adjunct worker including documents rearranging and data counting.
*DO NOT include wage to the applicant and research group members.
2 Travel Expenses
Domestic and international travel expenses, activity costs in foreign countries, accommodation costs, meals and insurance fee.
*DO NOT include travel expenses for attending at a society, a lecture class and other meetings to present the research result.
3 Equipments
Equipments necessary for the study that cost more than 100,000 yen.
4 Commissioned Survey
Expenses of the outsourcing research and questionary survey and data analysis.
5 Rental Fees
Fees to rental facilities, equipments, computers and other devices.
6 Meeting Expenses
Expenses related to renting a room, food, snacks and beverage.
*DO NOT include expenses for hosting a conference and a symposium for purpose of research presentation.
7 Research Reference Literature
Expenses for buying such materials as books, papers, etc.
8 Printing Expenses
Cost of printing survey sheets and photocopying materials.
*DO NOT include the cost of printing paper, report nor booklets of the research result.
9 Correspondence Expenses
Communication cost and transportation fee.
10 Supplies
Stationary supplies and other equipments less than 100,000 yen.
11 Others
Expenses for translation and other costs which you can't find the above items.
*DO NOT include any overhead costs by your research institution or organization, entrance fee to attend at a society or a lecture class, English supervision costs, article processing charge of Research Result Paper.
Example of 3.1 Breakdown List for page 2 of APPLICATION FORM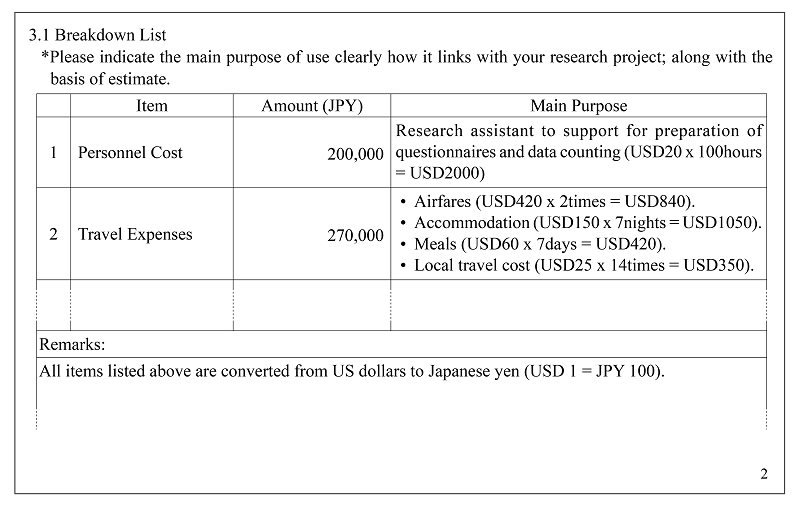 6. Selection Procedure
Grantees will be selected by our selection committees and at the board of directors. The results will be mailed to each applicant. We shall also officially announce themes of the grant-awarded research projects. Please note that we shall not answer any inquiries regarding the screening process and reasons for the selection, nor application reviews.
7. Announcement of Application Result
November 1, 2019
(Bank transfer of grant shall be done in late November)
8. Grantee's obligation to receive the grant
Those who receive Univers research grant shall be requested to submit a report paper on research result, by March 31, 2021 after the grant period is over. Detailed information shall be announced a grantee separately. Submitted research report shall be published in "Univers Foundation Research Grant Bulletin".


When research result, funded by Univers grant, shall be announced publicly, a copy of its publication is necessary to provide to the Foundation. Also, a note of "research funded by the Univers Foundation" shall be described in a research publication.


In order to make the substantial grant program, we will contact you for a follow-up survey. After the grant period is completed, between 3 or 5 years, we will ask you some report concerning publication or presentation about your research result, development to a new study, or such possibility.
9. Regarding Personal Information Protection
Personal Information received from applicants is only used for screening procedures such as selecting grantees and mailing application-results letter.
The Univers Foundation shall officially announce grantees' names, themes and contents of researches to the public, the National Institute of Informatics and the Japan Foundation Center.
Questions
Please feel free to contact us if you have any questions regarding our grant program.
▶Inquiry Form