International Exchange and Human Resource Development
Social Work in Hawaii Seminar
―Aiming to train social workers who support the falling birth rate and the aging population
The Univers Foundation holds a two-week seminar called "Social Work in Hawaii Seminar" every year, in cooperation with the University of Hawaii at Manoa, Myron B. Thompson (MBT) School of Social Work which receives high commendation in the field of academic researches and practices regarding social welfare in a multicultural environment.
For the seminar, approximately 20 students who aim to become social workers are dispatched to Hawaii. They attend lectures at the MBT School of Social Work, in addition to taking part in discussions, small group exercises, and site visits at social service institutes and hospitals. Through these programs, they capture the entire picture of local social work.
At the field of social welfare in Japan, the government conducts the acceptance of candidates of nurses and care workers from Indonesia, the Philippines, and Vietnam. Under this circumstance and for students who want to become social workers, this seminar provides a unique and valuable experience to see social work practiced in Hawaii, where many ethnic groups live together and different professions work in harmony based on the traditional "Aloha spirit."
Holding the 11th Seminar
Developing oneself as human resources in forging the future of social welfare, by interacting with various people
The seminar was held for two weeks on February 15 to March 2, 2014, and 18 graduate and undergraduate students from Japan including 1 foreign student from Taiwan, and 1 student from the Philippines attended the seminar.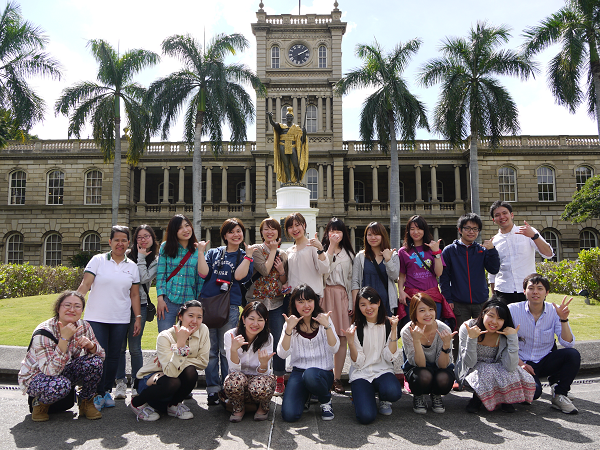 19 participants met each other for the first time and though each participant grew up as fellowship who have common intentions through various experiences at the seminar. They have opportunities to attend lectures at the classroom, attend site visits at social service institutes, and interaction with local people in a warm atmosphere. Through each program, they felt and learned "Aloha spirit" that provides a back-bone to people in Hawaii who practices social work.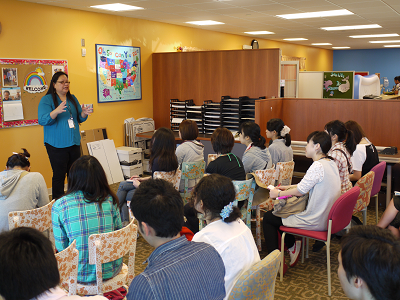 During the seminar, participants attend many lectures. Those including the following themes are interesting to participants:
Contemporary Issues in Social Work
Psychological First Aid
Understanding of Self
Hawaii and Japan Elder and the Caretakers
Hospice Care and support the deathwatch
In addition, participants had opportunities to site visits to Women's Community Correctional Center, Red Cross in U.S.A., hospice, and child facility. They listened to the local specialists and learned the meaning of aloha spirit in Hawaii and commitment with ohana (family) throughout the body. They discovered their own ability through various experiences regarding the social work.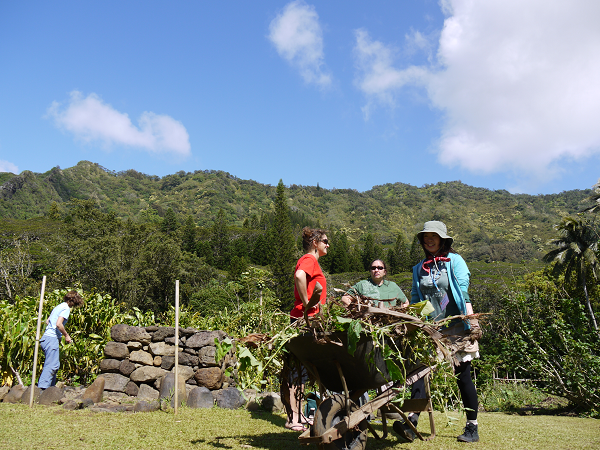 Besides, they attended the lecture at the MBT School of Social Work and deepen exchanges with the students. Moreover, they had opportunities to reflect on themselves by the discussion with mentors who are composed of Japanese students and alumnus at the University of Hawaii. Furthermore, they strive to understand the Hawaiian traditional culture through Hula and culture activities. These experience-based and participatory programs responded to expectations by participants who are actively motivated to learn.
The book about our seminar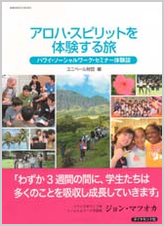 We have been continuing to support all participants in the past. The follow up seminar was held for the purpose of sharing their experiences and opinions and that eventually provided us publishing a book; "The Journey toward Experiencing the Aloha Spirit" from Diamond Co., introducing the seminar.